Today was nuts. It went a little something like this:
Day 7 – Tuesday 20th August – Death Valley and Las Vegas
07:30 – Back at Rhyolite, re-shooting all the stuff we did the night before. It looked a little nicer this time around, and it wasn't dark by the time we'd finished: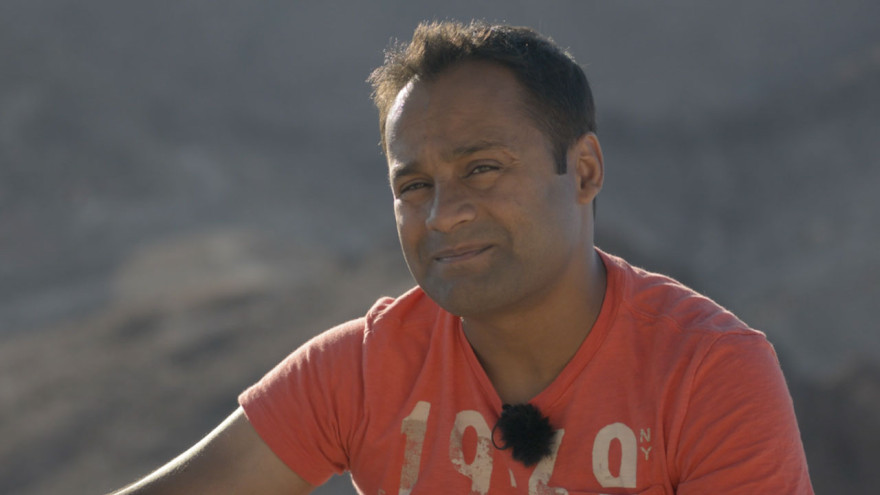 It still took a while, though, what with all the early flights heading out of LA steering right above us. Harrumph.
09:00 – Another link, elsewhere in Rhyolite. No, I'm not saying what it was.
09:45 – Photosynthesis demo on the bonnet of a rusty old truck: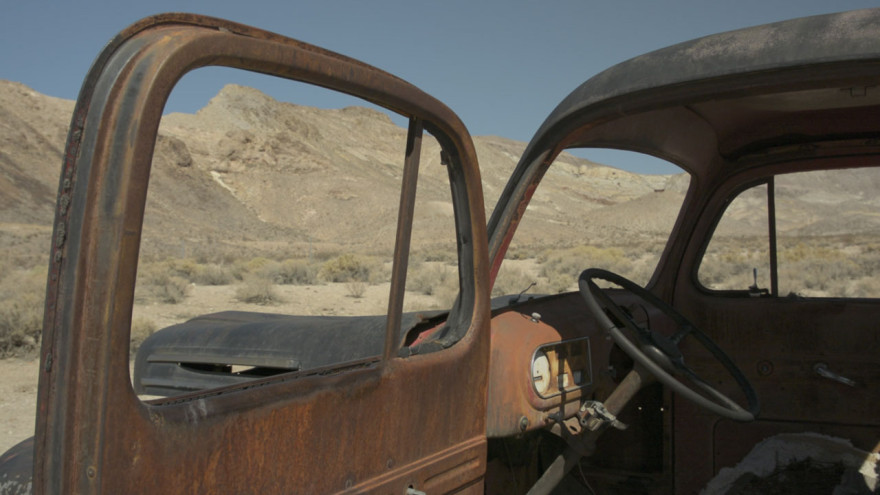 10:30 – Check out of motel
11:00 – Back to Denny's for 'Breakfast.'
11:30 – Gag shot in Denny's car park. Fingers crossed it makes the final cut, it tickled us no end.
12:00 – Rig Jeep thing for filming inside: pieces to camera while heading back into Death Valley.
14:00 – Badwater Basin again, for this: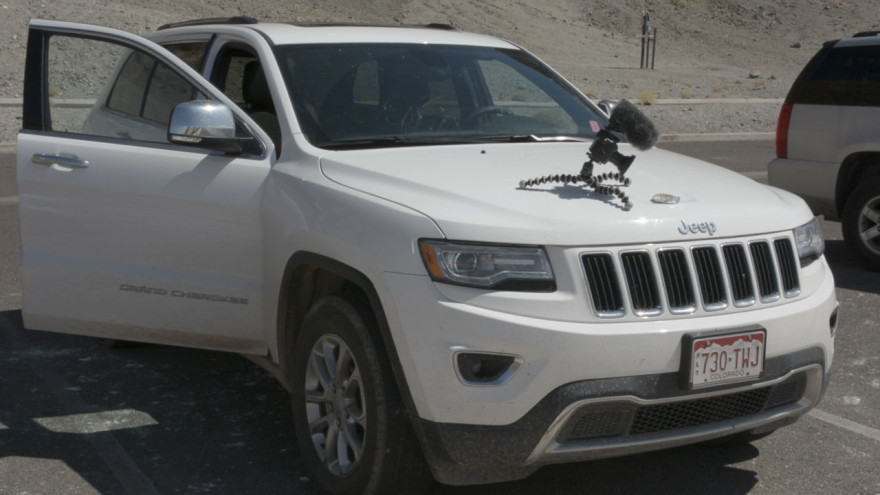 What could that possibly be on the bonnet of the Jeep thing, I wonder?
15:00 – Check temperature in Furnace Creek: today it's 121°F there (49.4°C). Insanely hot. We're too addled – and too behind schedule – to repeat the shot from yesterday, though, and 112°F will have to do for that. Drat.
15:15 – Wave farewell to Death Valley, drive out heading back towards Las Vegas.
16:00 – Remember to shoot a couple of 'Jeep thing drives past camera' shots before we leave the desert and hit the big highway: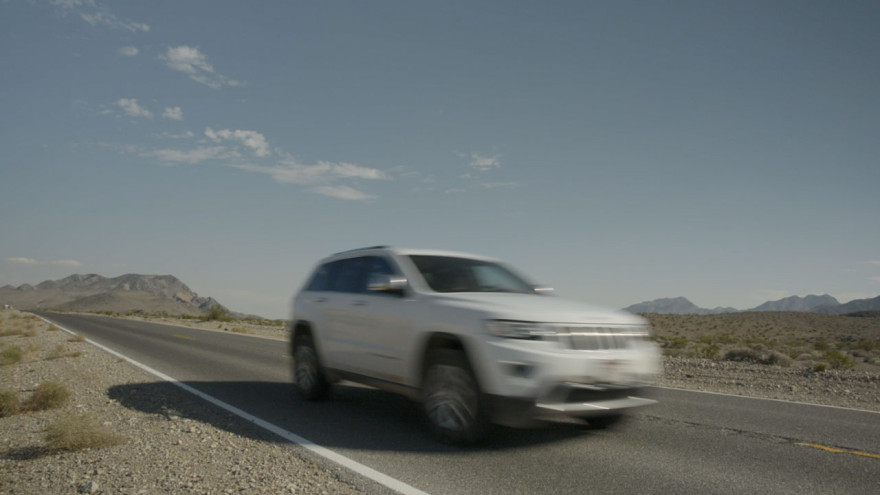 Huh. Two Jeep thing pictures in succession. I must be missing it.
16:30 – Snack on jerky and utterly appalling cheese sandwiches whilst on the road. Not our finest moment.
18:30 – Arrive Vegas.
19:15 – Manage to find hotel reception ("Go through the casino, then…"), get checked in.
20:00 – Back out to find this evening's interviewee.
20:30 – Arrive at Krystyn Lambert's place. Krystyn's a magician and… well, philosopher, which is an interesting combination. She was a late addition to our schedule and we're not 100% sure how we're going to use her interview, but she was fascinating to talk to and tremendously generous with her time. Fingers crossed we can make it all slot together.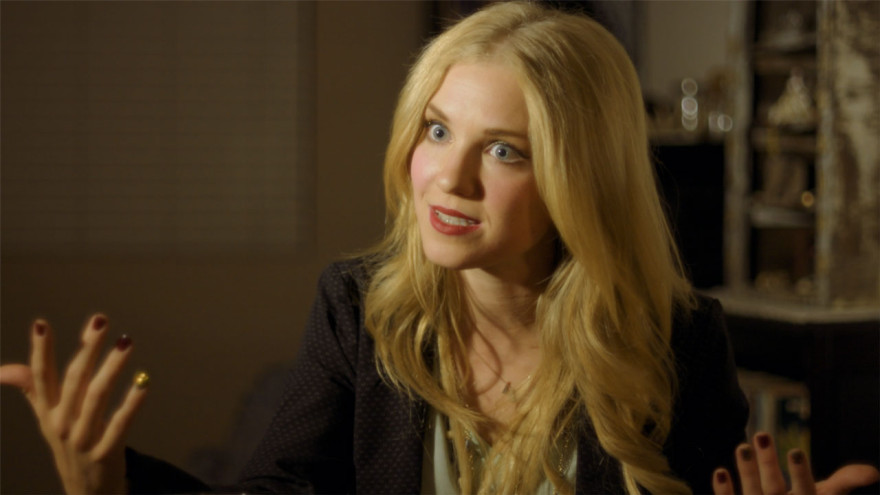 It's at times like this, incidentally, that you really wish you had a full lighting kit with you. As opposed to a couple of small LED panels and a noga arm clamped to the kitchen counter. Yay for fast lenses. Aaanyway…
23:00 – Wrap filming with Krystyn.
23:30 – GoPro shots driving up & down the Las Vegas Strip.
We only got shouted at once.
00:30 – back at the hotel. We caved in and ordered room service.
01:15 – 'Dinner' arrived. It was surprisingly good.
02:00 – Finish offloading and backing up the day's rushes.
02:15 – Rig 'B' camera for timelapse from hotel window. What bliss to share a room with a camera with a silent shutter and a programmable start delay to the timelapse. Technology, you have to love it.
02:30 – Sleep.
So, that was a long day. But we'd covered everything we needed to in the desert, shot a couple more demos, and made it back to Vegas with a bonus interview.
Phew.
Miles travelled: 333 (total 2339)
Footage shot: 05:29:29 / 56Gb (total 11:12:48 / 112Gb)
(we ran a GoPro camera on the car for chunks of the day, and Krystyn's interview was shot with two cameras, hence the huge number of minutes!)