It's rare to film a script in page order: usually one records whichever bits fit the schedule rather than adhering to the script. This becomes mightily confusing, but not so confusing that one can drive past a city the size of Las Vegas by accident. No, no – we absolutely intended to do that.
Really, we did.
Day 5 – Sunday 18th August – Seligman to Beatty
Seligman is said to be one of the towns John Lasseter used as the model for Radiator Springs in his film Cars, which sounds about right. It's hugely kitsch, but that particular type of American kitsch which is somehow less annoying than the classic British tourist traps. Perhaps that's what American tourists say when they visit the plastic bits of York.
The memorabilia place across from our motel opened up an old fire car for Alom to deliver a link from:
We shot a bunch of pretties, then headed on out. The road West from here tracks closely parallel to the railway line, which is a major freight route, and we watched dozens of immense trains labour their way up into the mountains. Eventually we stopped and filmed one:
It took five minutes to pass. I have no idea what I'm going to do with that clip.
The rains came down again, at times slowing our progress to a crawl, and we ground our way towards an overlook of the Hoover Dam I wanted to use for a link. Eventually, we reached the sweep of road that curves left to reveal… woah, where's the sweep of road gone? Oh yeah, when I came this way three years ago it was a vast building site. Now, they've finished the massive bridge they were building, and added a big visitors' car park.
After the most cursory of security inspections (I mean, it's not like the back seat of the Jeep thing was strewn with cables and radio transmitters or anything… oh no, wait) we parked up, and headed out along the bridge footpath. It was windy and threatening rain, and as we stepped out everyone was huddling just a few metres onto the bridge. So we strode bravely out into the centre, hoping for relative quiet while we surreptitiously recorded a link. Inevitably, other visitors took our braving the elements as a challenge, and moved five metres beyond us. Chatting. Loudly.
There followed the usual game of cat-and-mouse, feint and double-bluff, familiar to film-makers everywhere. Nobody ever understands why shooting video takes so long – well, often it's the lengthy conversations people are having about why film-making takes so long, if they're having them just within the pick-up range of our microphones. Or it's the child who has to kick every. Single. Railing. Twice. Or it's the family who inexplicably stop in the middle of a bridge to repack every single item from each of their eleven bags, pausing to discuss each object in turn, unaware of the queue of terribly polite people they're holding up.
Often it's those sorts of things. Then sometimes the presenter can't get the lines out, or the camera operator focusses the wrong way three times in a row, or somebody forgets to turn the microphone on, or you realise you'd forgotten to white balance, or…
And then sometimes it's all of the above.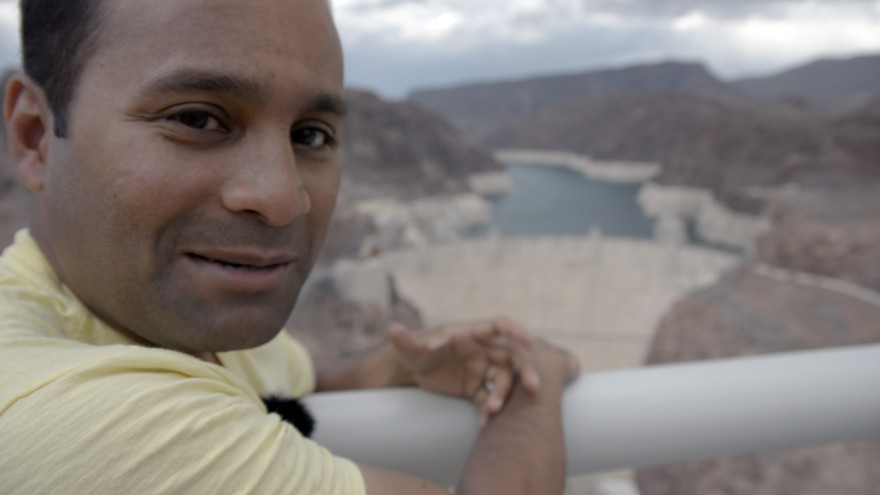 We got there. Eventually.
Pressing on, we began to skirt Las Vegas and then: "Congestion! Congestion! Congestion!". The Jeep thing, it transpired, talks. She was quite chatty, in fact. If you pressed the correct button on the steering wheel you could have conversations with her, as long as you were happy to talk about road conditions, route alternatives, or the location of the nearest gas station. Or in this case all of the above, as we hit stationary traffic just as the ever-plummeting fuel needle dropped into hypothetical reserve territory. Ulp.
After the sort of slow-motion doom-laden chase which surely inspired the Weeping Angels we finally achieved both the copious quantities of gasoline demanded by the Jeep thing, and our destination: Beatty, on the outskirts of Death Valley. By then it was dark, however, and our grand plan to film a crucial link at sundown that evening was blown wide open.
We were tired, hungry, and fed up. Only one thing could save us now: chile.
Despite the late hour, the implausibly-named Happy Burro bar obliged. By some margin the cheapest meal we had on our trip, and probably the best: it turns out the Happy Burro features regularly in chile cook-offs across the South-West. Their chile is apparently well-known, and with good reason.
Endorphins make everything better. We'd reached Death Valley, and that meant our filming was about to step up a gear.
Miles travelled: 372 (total 1718)
Footage shot: 00:40:43 / 6.8Gb (total 04:30:59 / 44.3Gb)